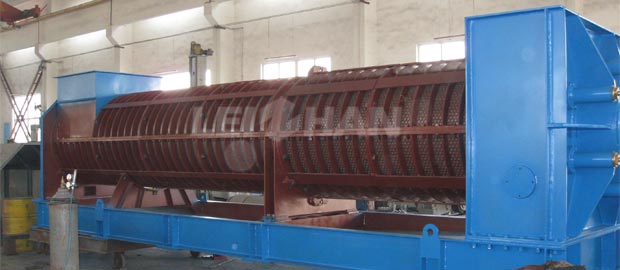 Screw press washer machine is used for dehydration and concentration of waste paper pulp in pulp and paper industry. Screw press washer machine is used in series with the inclined screw thickener to achieve the treatment concentration required by the thermal disperser, and it is the key equipment in the thermal dispersing system. Large compression ratio, easy operation, low energy consumption.
Working Principle of Screw Press Washer
The pulp enters the filter basket from the pulp inlet at the upper end of the filter basket, and is continuously dewatered and conveyed to the pulp outlet under the extrusion action of the rotating screw main shaft with a certain compression ratio; The water squeezed out of the slurry passes through the filter basket and enters the water receiving tray, and flows out from the white water outlet. There is a pneumatic cone disc at the spiral discharge, which can control the pulp pressure to adjust the pulp concentration; in order to ensure the consistency of the dehydration inside and outside the pulp layer, there is a sleeve with holes on the main shaft for auxiliary dehydration.
Leizhan offer full set paper pulp making line machine and has 42 years manufacturing experience, contact us for more details. Email address: leizhanchina@gmail.com.