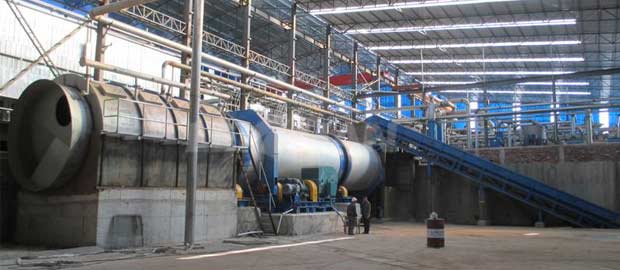 The drum pulper can deal with newspapers, paper board or mixed waste paper, and coarse screening of waste paper under high consistency. The drum pulper mainly suits for large pulping capacity kraft paper making line and another wrapping paper making line. Waste paper raw material will from the conveyor into pre-soaking area, In turn into the pulping area, the screening area. Low energy consumption, improve the quality of pulp and low maintenance cost.
Main Features of Drum pulper
1. Energy conservation: Waste paper is broken under the condition of 15-20% high consistency, reduce a lot water for breaking, reduce energy consumption for breaking, continuous breaking and slag discharge reduces the energy consumption of the auxiliary and subsequent equipment.
2. Improve the quality of pulper: Mild breaking without destroying the fiber strength and length, maximum limited guarante the light impurities and parts of heavy impurities not broken, ensure the cleanliness and quality of the pulp.
3. Low maintenance cost: Drum pulper integrates high consistency breaking and coarse screening, simple structure, durable, is extremely low, and reduced labor for the waste paper selecting, so can save the expenses.
Drum pulper suits for 120t/d, 550t/d or 750t/d paper recycling project, like kraft paper making line, corrugated paper making line. Welcome to consult us for more specifications. Email address: leizhanchina@gmail.com.