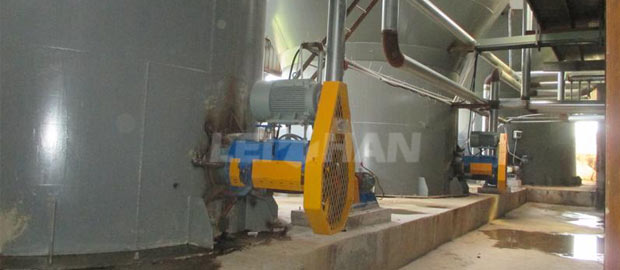 Pulp chest propeller agitator mainly used to stir slurry in chest to maintain the slurry liquid in suspending condition. Propeller agitator has high efficiency and excellent mixing performance. Its impellers have advanced design and adopted stainless steel 304 and pulleys meet European standards. Here are preparation and operating details.
Propeller Agitator Preparation Before Operating
1.Installed machine need a foundation maintenance before operating.
2.Make sure all connecting bolts are fixed tightly.
3.Make sure all grease parts have good grease and have no oil leak.
4.Turn on motor and let it operate for 4 hours, check the bearing temperature, which should be less than 30℃。When unusual sound is heard, the power should be cut off and someone should check the machine.
5.After empty operation,pour clean water into chest and make load running examination. Examine the flow direction of water and operation electric current.
Propeller Agitator Operation
1.Make sure no other material is in chest, in case a damage of impellers.
2.Start the motor when impellers are complete in pulp and can generate recycle.
3.Control pulp consistency. When pulp consistency is high, recycle will be slowed down, and pulp can not be well mixed.
4.After the examination or change of motor, check whether the motor direction is same to pulp flow direction.
Has the above introduction solved your doubts? We are specialized in pulping equipment for 39 years, our professional engineers are able to solve all your questions. Tell me your pulp chest size and consistency of slurry to know more details. Email address: leizhanchina@gmail.com.