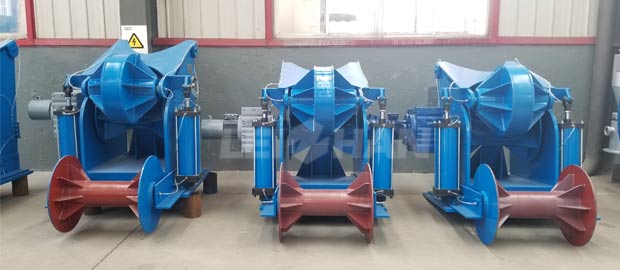 Ragger is mainly used for removing various kinds of twisting impurities in pulp making line like iron wire, string, plastic, cotton yarn. Ragger is usually used with D type hydrapulper. Ragger, D type hydrapulper, grapple, rope cutter and hydrapurger form a continuous crushing system. High efficiency, low power consumption and simple construction.
Structure Principle of Ragger
Ragger is composed with chassis, rotor, reducer, transmission chain, up press roll plus landing gear, reel, change gear, guiding roll,etc. Dynamo drives the reel to slowly turn through transmission chain. The twisting impurities in hydrapulper forms rope and are continuous pulled out. The operating speed and direction can adjust according to technological requirements. Up press roll tightly press the rope, its pressure can be adjusted by the landing gear. Guiding roll has the bearing effect for rope, and reduce the running resistance. The complete machine constitutes to an organic whole. The structure is simple and compact.
We can offer unit paper pulp making line machine. Contact us for more details. Email address: leizhanchina@gmail.com.