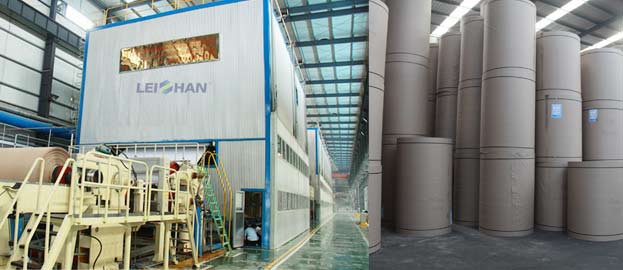 Leizhan is the supplier of the "turnkey" paper plant for production of Sack kraft paper board. The whole sack kraft/testliner board making line contains stock preparation project and paper making machine. Following is the customized paper pulp production solution use waste paper as raw material.
80T/18H LOCC Stock Preparation Project
1. Raw material conveying
BFW1200 Chain conveyor: Mainly used for conveying various kinds of pulp board, waste paper in bulk and in bundlewhich can be horizontal conveyor or inclined conveyor(<30°).
2. Pulping
ZDSD25  D Type hypdrapulper: D type structure changes slurry flow ways, make contact between pulp and rotor more quick and frequent.
3. Cleaning
ZSC5 high density cleaner: Mainly applied to remove all kinds of heavy impurities in paper pulp, like steples, stones, glasses, etc.
ZSC6 mid density cleaner
KH600 low density cleaner: Mainly used for removing heavy impurities in the pulp like gravel, scrap iron, dust and large ink particles.
4. Screening
ZNS0.6 mid consistency pressure screen: Mainly used for coarse and fine screening of various waste paper pulp.
PZ2 reject separator: Used for fiber relief and impurities separate for tailing in the coarse screen system for waste paper pulp.
FJS0.9 fiber classifier: Mainly used for secondary breaking and screening of waste paper pulp, meanwhile, separating the light and heavy impurities from the pulp.
5. Pulp refining
ZDP380 double disc refiner: Used for beating and improve the beating degree of pulp to satisfy the papermaking demand.
6. Fine screening
NLS0.6 inflow pressure screen before sack kraft paper machine: Small moter power, high production capacity, energy saving.