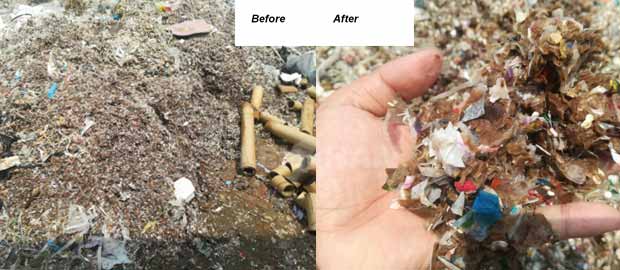 There are many impurities in waste paper recycling process line, like stone, glasses or plastic film, etc. Our pulping equipment are able to remove these impurities perfectly. Pulping line reject separator mainly used for fiber relief and separate for tailing in the coarse screen system. One of our customer used reject separator in the upgrade paper production line, great changes have taken place in all aspects. The comparison effect before and after is as follows.
Before Using The Reject Separator
Pulping equipment: fiber separator, vibrating screen
Problems: slag discharge is not clean, a lot of fiber loss
After Using Reject Separator
There is a high-speed rotating blade inside the reject separator, which clarifies the incoming tailings and the uncleared paper sheets again, and recovers the fibers again to ensure that there is no fiber loss in the slag discharge.
Reject separator is praised by many customers, which can greatly reduce power consumption, reduce fiber loss thereby improve finished paper quality. Leizhan offer whole set of recycling waste paper pulping line, Welcome to contact me to know more details. Email address: leizhanchina@gmail.com.