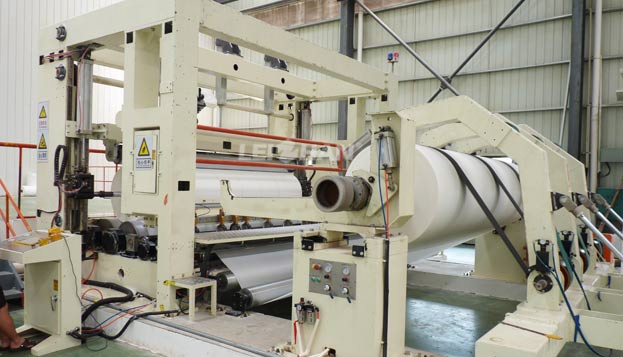 Plant introduction:
Raw material: 100% Wood pulp
End products: High grade Toilet tissue paper
Production capacity: 10T/D
Line: The whole toilet paper making plant contains wood pulp processing line and toilet paper making machine
Key equipments: Vertical hydrapulper,  High density cleaner, Inclined screen, Claflin refiner, Double disc refiner, Pulp pump
100% Wood pulp processing line
 1. To convey the wood pulp into Vertical hydrapulper for pulping is the first step.
2. Then, High density cleaner will be used to remove heavy impurity in wood pulp.
3. Next, Inclined screen will be used for washing and thickening of wood pulp.
4. After that, pulp refining system equipment Claflin refiner and Double disc refiner will be used for cutting fiber and improve beating degree of pulp.
2200mm Toilet Paper Machine
Dryer Cylinder
Frame
Pressure Former
Wire Frame
Drum Roll
Horizontal Reeling Machine
Pressure Roll
Rubber Covered Roll
Braket
Flat Box (Inlaid ceramic panel)
Tighten Blanket,Guide Device
Doctor Blade (Soft doctor blade)
Shower Pipe
Washing Felt Tank,Water Pan, Felt Beater
Mechanical Driving
Motor, Electric Control Cabinet(71.5KW)
Operating Platform, Air Hood