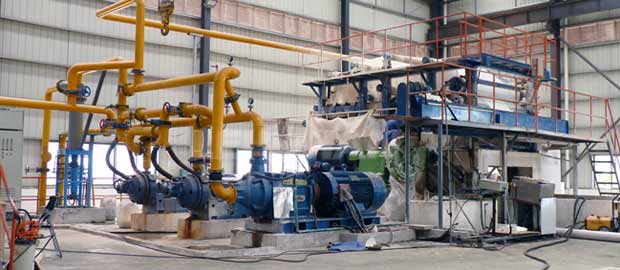 The reason more and more investor decided to established a paper mill to produce toilet tissue paper that toilet tissue paper is an essential consumable in people's lives. Our pulping equipment used in toilet tissue paper pulping line has the advantages of high pulping efficiency, low energy consumption motor power, and excellent remove slag ability. Here are main pulping equipment in 10TPD toilet paper pulping line.
10TPD Toilet Tissue Paper Pulping Equipment Technical Data
Vertical Hydrapulper: 2m³, C=3~5%, h=10mm
Uploading pump: Q= 130m3/h, H=11m, C=3~5%
High capacity hydrapulper: 3m³, C=14~18%, h=20mm
High density cleaner: Q=900~1400l/min, C=2~4%, P= 0.2~0.5MPa
Fiber separator: D=560mm, h=3mm, C=2.5~3%
Vibrating screen: 2㎡, S=1.5mm, C=1%
Low density cleaner: Q=600l/min, C=1.5~2%, P= 0.2~0.5MPa
M.C. pressure screen: A=0.3m², s=0.15mm, C=1.5%
Inclined screen: 5m², C=0.5~1%
Double disc refiner: Ø450mm, C=3~5%
White water pump: Q= 600m3/h , H= 8m, C=0.15~0.2%
More details about 10TPD toilet paper pulping line, contact us. Email address: leizhanchina@gmail.com.