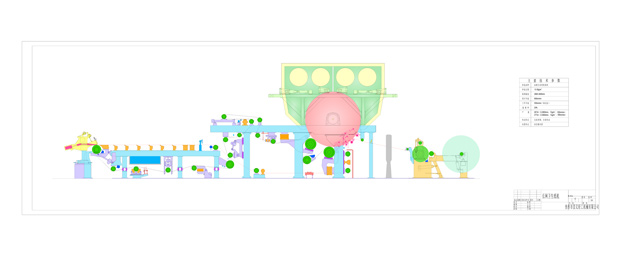 Fourdrinier Toilet Paper Machine mainly used to produce toilet, tissue and napkin paper. Finished paper can be processed into various types of paper that customers want. The customer usually use waste white shavings or wood pulp as raw material to produce. As a professional pulping line equipment and paper machine manufacturer, we can offer complete pulping line equipment no matter process wood pulp material or waste shavings. The 2850mm Fourdrinier Toilet Paper Machine details as below.
2850mm Toilet Tissue Paper Machine Details
Headbox: The hydraulic headbox controls and stabilizes the sizing head and the concentration of the wire slurry by adjusting and controlling the inlet pressure of the head of the headbox and the opening of the upper and lower lip plates of the headbox.
Wire part: Breast roll,forming plate,dehydration board,vacuum box,couch roll,drive roll,guide roll and frame and so on.
Press part: Divided into main pressing,roll press. Main press is double roll pressing, with the next package of metal roller each one, idler press for the roller and 1# composed of large cylinder press, with a plastic coated metal roll.
Drying part: 1# large cylinder:Φ3000/Φ3600 dryer cylinder, single transmission. With closed hot air hood, wrinkle doctor, clean doctor each one. Pressured way is cylinder pressure. 2# large cylinder: Φ3000/Φ3600 dryer cylinder, single transmission. With dry wire, guide roll and 1 clean doctor, no hood. Pressured way is gravity pressure.
Reeling part: Horizontal pneumatic rollers,Pressured way is cylinder pressure.
Our pulping equipment adopted high quality material and has high efficiency remove impurities effects. Want to know more information about 2850mm Fourdrinier Paper Machine or complete pulping line equipment, feel free to consult us. Email address; leizhanchina@gmail.com.