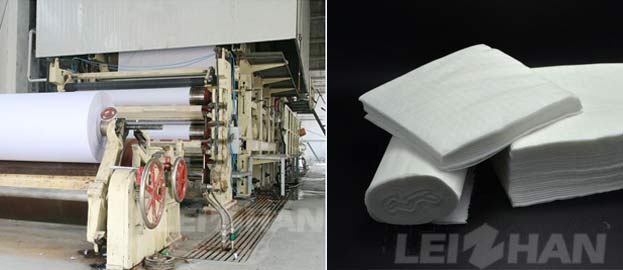 From the past to present, tissue making machine is always the largest demand product, many friends leave messages ask the details and price about complete set of tissue paper manufacturing plant, some want to purchase the smallest tissue paper making machine, some have bigger budget, our engineer will design the suitable project for paper makers according to the actual demand.
Tissue Paper Manufacturing Plant
In general, we support waste paper ( office paper, white shavings, newspaper, etc ) and wood pulp as raw material, compare with wood pulp, the complete set of tissue paper making plant take waste paper as raw material is more complicated, if waste paper with ink, then need waste paper deinking line. These two kinds of tissue paper manufacturing plant have their respective advantages.
Tissue making use waste paper: First, raw material is very cheap compare with wood pulp, and the final paper has better softness, and some area have very high demand for this tissue paper, so paper mill will have very high return.
Tissue paper making use wood pulp: The production line of tissue paper is very simple compare with other raw material, just adopt Mid Consistency Hydrapulper through screening and refining is OK, save the equipment investment and reduce manpower. Furthermore, people's requirement for paper's quality is increase with the development of economy.