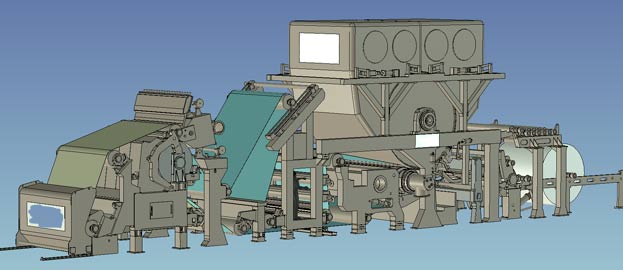 Cresent tissue machine and vacuum cylinder tissue machine all can used to toilet tissue ete paper production. However, compare with vacuum cylinder paper machine, cresent tissue paper machine with the advantages of high pulp adaptable, high efficiency low energy consumption, high working speed and stale running etc.
Vacuum Cylinder Paper Machine Features
1. Lag in technology, but small investment, low energy consumption, suit for small paper factory;
2. Poor original paper quality, rough touch feeling compare with paper produced by cresent tissue machine, poor paper stiffness, need add dispersant to arrive the evenness requirement, difficult to get soft delicate and fluffy product.
Cresent Tissue Machine Features
1. Advanced technology, big investment, high energy consumption;
2. But can produce high grade paper produce, big production capacity, touch feel delicate and soft, stable quality, small
fluctuation
Cresent tissue machine can be used to produce toilet paper, facial paper, kitchen paper etc living paper, suitable raw material include waste paper deinking pulp, commercial wood pulp etc, more details consult us: leizhanchina@gmail.com