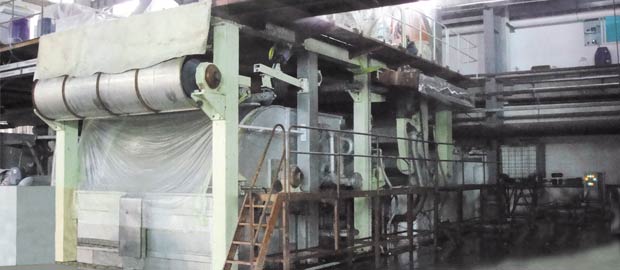 Cylinder mould tissue paper machine is composed of cylinder mould part, press part, drying part, reeling part. The final paper basis weight is 13-40g/㎡. Tissue paper can be obtained by recycling waste white shavings or virgin pulp. Paper mill owner can choose according to his budget or marketing.
Main Specifications of Cylinder Mould Tissue Paper Machine
1. Cylinder Mould Part: cylinder mould , main components: couch roll, back roll and frame, etc.
2. Press Part: roller pressing. The idler press is a press composed of an idler and a large cylinder, and is equipped with a rubber-coated metal roller. The idler press is equipped with a felt guide roller, a felt suction box, and a felt. The pressurizing method of the idler roller is the corrugated pneumatic tire.
3. Drying Part: Φ3000/Φ3600 drying cylinder, driven separately. With closed hot air hood. Equipped with a wrinkling scraper and a cleaning scraper, and the pressure method is the cylinder pressure.
4. Reeling Part: Pneumatic horizontal reeling machine, the pressurizing method is air cylinder pressurization.
Whole set cylinder mould tissue paper machine and tissue paper stock preparation line machine for sale. Contact us for more details. Email address: leizhanchina@gmail.com.