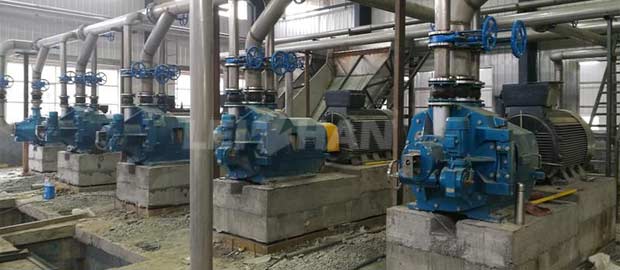 Fan slurry pump for 80t tissue paper pulping line. The fan slurry pump transports the medium through the delivery pipe connected with the suction port flange and sucks it into the pump body. The medium is separated at the suction port and enters the suction area of the impeller, which has a bidirectional liquid flow and an ideal flow path. The medium is sucked in through the two-way (dual flow) impeller from the left and right sides along the central axis of the impeller. The medium is subjected to radial acceleration in the impeller to obtain kinetic energy. Due to the kinetic energy generated by the rotation and the shape of the blade (from the axial direction to the radial direction), the kinetic energy is converted into pressure energy in the pump casing, and the medium with a certain pressure enters and The outlet pipe connected to the outlet flange. More technical data about fan slurry pump as below.
Technical Data of Fan Slurry Pump
Usage: 80t/d tissue paper pulping line
Medium concentration: 0.15%-0.25%
Flow rate: 3600m³/h
Head: 50m
Motor power: 355kwx2
Leizhan offer complete paper pulping line machine and has 40 years production experience in pulping machine field. If you want to know more about fan slurry pump, please feel free to contact us. Email address: leizhanchina@gmail.com.