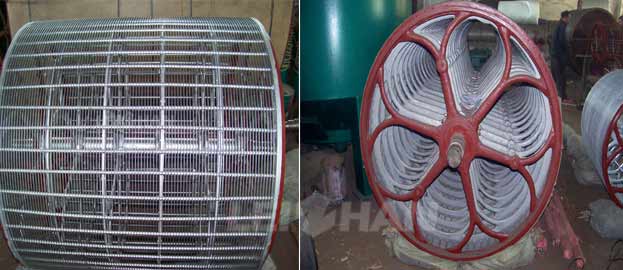 The cylinder mold after long time running, may cause the copper wire winding break and can't use anymore, Many paper mill don't know how to repair and go back to the manufacturer, in this way has long round-trip time, cost many and not convenient. Here are some easy and feasible way to repair the winding.
How To Repair Cylinder Mould Winding?
1. According to the cylinder mold bearing center make a iron or wood instructure shelves, the shelves surface install the matched bearing pedestal with cylinder axle, lift the cylinder to the inner of shelves, fixed cylinder mold axle use bearing pedestal. Shelves making requirement: Cylinder mold bottom have 200-300mm distance with the ground, the wire frame must fastness and have certain pressure and press resistence strength. When done that, just install the bearing pedestal can repair the cylinder mold, take down it can put the wire and round net, welding copper wire. A multi-purpose content.
2. Find two points to fix the fixed point of copper wire winding, then use a Φ 120-150mm stick fixed at these two points, requiring two fixed points have certain stretching resistance, the stick is above the ground level 500-600mm. The fixed point is the distance from the round net around 2m, the purpose is control and winding speed and tightness, eliminate the bending between lines, after all these done, then can make copper wore winding job.
Leizhan supply high quality and cheapest Cylinder Mold, which you don't have to repair it constantly and have excellent user experience, welcome to consult us if you have any need: leizhanchina@gmail.com.