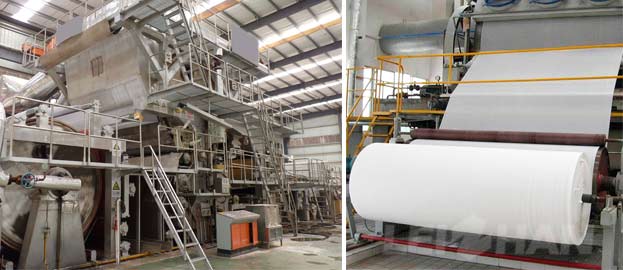 Leizhan is able to supply the whole line for paper towel roll making from waste paper, which can used to make napkin, kitchen, toilet, handkerchief etc tissue paper. Include the stock preparation machine to final paper towel roll making.
Paper Towel Roll Making Process
To make tissue paper towel, the raw material can be wood pulp, waste paper, old carboard according to the different market demand. The raw material through pulp making line, paper making manufacturing procedures, paper converting section, boiler section then get final paper towel roll.
2400mm Paper Towel Roll Machine
Output paper: Toilet paper, napkin, kitchen, handkerchief etc tissue paper
Capacity: 12t/d
Output paper weight: 110-240gsm
Net paper width: 2400mm
Cylinder mould width: 2850mm
Rail space: 3400mm
Output paper humidity: 4%-8%
Working speed: 80-120m/min
More details contact us: leizhanchina@gmail.com