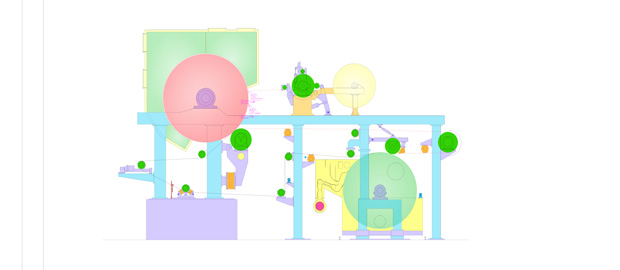 Positive pulp cylinder toilet paper machine mainly used to make living paper, like toilet tissue paper, napkin paper or facial tissue paper. Whole set toilet paper pulp production line machine provided by Leizhan. No matter which kind of raw materials. The positive pulp cylinder toilet paper machine divided into wire part, press part, drying part and reeling machine. Here are more info about toilet paper machine.
More Info About Positive Pulp Cylinder Toilet Paper Machine
Wire part: One cylinder mould, main parts: couch roll, back roll and frame and so on.
Press part: Carrier roller press is made of idler roller and big diameter cylinder, and equip with one covered rubber metal roll. Carrier roller press includes guide felt roll, felt suction box and a felt. the idler roll press's pressure method is corrugated tire pressure.
Drying part: Φ3000/Φ3600 dryer cylinder, individual drive and equip with closed type hot blast air hood, a wrinkle scraper and a clean scraper.
Reeling part: Pneumatic horizontal type paper reeling machine, air cylinder pressure.
Any needs about positive pulp cylinder toilet paper machine, please contact us for more details. Email address: leizhanchina@gmail.com.