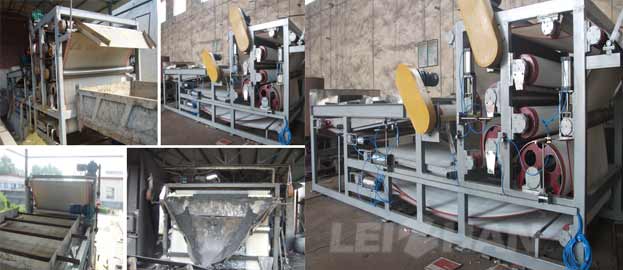 Sludge Dewatering Machine is used to concentrate sludge in paper making industry, here are it's working process.
Sludge Dewatering Machine Working Process
1. The sludge in sludge dewatering machine is conveyed into gauge tank by the slurry transfer pump. By adjust the liquid adjustment pipe in gauge tank to adjust the input slurry, and excess sludge flows back through the reflux tube to the sludge tank.
2. Sludge dewatering machine sludge and flocculant are in the flocculation mixing tank, and the alumen ustum can be mixed together in a blender. The ideal diameter of alum is about 5mm.
3. Alumen ustum in concentrate part through concentration of gravity. Vast filter discharged from the filter seam of concentration section.
4. The slurry concentrated along the spiral axis rotation direction keep moving on, fully dehydrated under the internal pressure of the back pressure plate.
5. The dehydrated mud cake is discharged from the space between the back pressure plate and the spiral main body. Can adjust the sludge dealing capacity and mud cake moisture content by adjust the spiral axis rotate speed and gap of back pressure plate.
Any more details, feel free to contact us: leizhanchina@gmail.com.