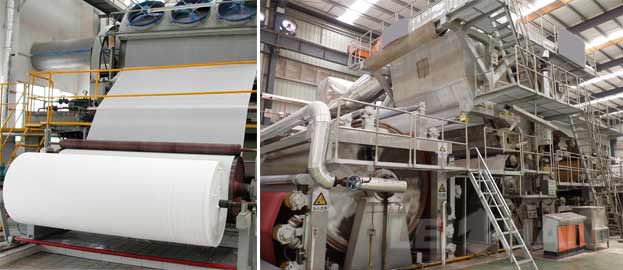 Waste paper is renewable resources, many paper makers use waste paper produce finished paper such as living paper, packaging paper, cultural paper, etc, And living paper making use waste paper include tissue, napkin, towel, toilet and facial paper making etc. As professional pulp equipment and paper making machine manufacturer, we supply the whole living tissue paper manufacturing line equipment, the details as below.
Living Tissue Napkin Towel Paper Making Equipment
Raw material: White shavings, waste paper, wood pulp etc(When choose the raw material to produce tissue living paper, except wood pulp, white shavings has good effect, because with no ink and no other impurities, then the pulping and screening process is very simple, and needed equipment is less compare with other paper production line, which greatly reduce the whole tissue making line invest)
Tissue paper production capacity: Usually at 0-50t/d
Tissue napkin towel paper making machine:
Raw material pulping: D Type Hydrapulper, Mid Consistency Hydrapulper
Pulp cleaning: High Density Cleaner and Low Density Cleaner
Pulp screening: Mid Consistency Pressure Screen
Pulp refining: Double Disc Refiner
Tissue/Living Paper Machine: The pulp through tissue paper machine cylinder mold to wire part then through pressing, drying, calendering to get final paper, next is paper winding, rewinding and napkin towel tissue paper roll cutting.
More information about tissue napkin towel making machine, welcome to consult us: leizhanchina@gmail.com