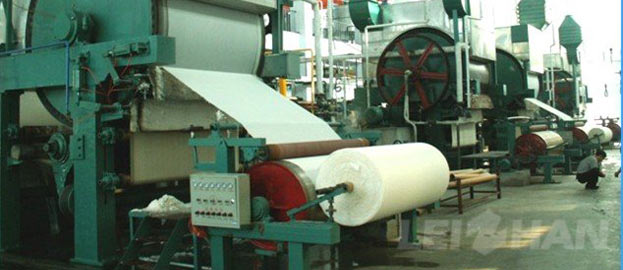 Toilet paper, disposables, table cloths paper is a big consumption paper in our daily life. We main supply the complete set of paper making line equipment, include all kinds of paper making machine, such as kraft, corrugated, carton, cultural, etc. However, the demand of toilet tissue making machine is always on top list.
Toilet Tissue Disposables Table Cloth Paper Machine Details
Output paper: Toilet paper, disposables paper, table cloth paper, kitchen paper, napkin paper, facial paper, etc.
Raw material: Waste paper, wood pulp, mixed pulp, etc
Manufacturing ability: 0-50t/d, depends on your need.
Toilet disposables table clothes paper making machine: From the raw material conveying, pulping, screening, cleaning, refining, to toilet paper machine wire part, pressing part, drying part, calendering part, paper winding, rewinding, etc.
We can provide the single equipment and whole toilet disposables paper making line, if you have any need about tissue making machine, welcome to consult us: leizhanchina@gmail.com.