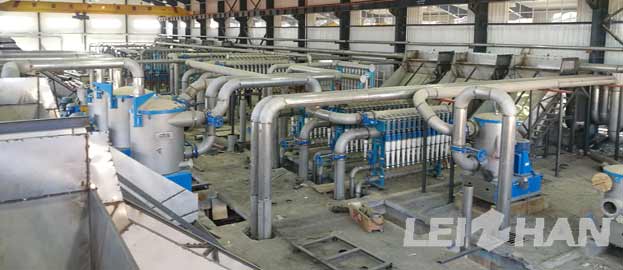 Leizhan has many positive experience in producing toilet paper roll making machine. In the past year, more than hundred pulping equipment were supplied for different countries customer, including Egypt, Iran, Russia, India, Uzbekistan and so on.
Toilet Paper Roll Production Procedure
Raw material: recycled paper, virgin tree pulp, hemp plant fiber
Production process:
Sorting: the raw material need to be preliminary sorted from the heavy and light impurities.
needed machine: Bale Breaker
Pulping: the raw material should be pulped into pulp fiber.
needed machine: Drum Pulper, D Type Hydrapulper, M.C. Hydrapulper, H.C. Hydrapulper, Vertical Hydrapulper
Cleaning: remove the impurities from the pulping fiber.
needed machine: High Density Cleaner, Low Density Cleaner
Screening: coarse and fine screening of waste paper pulp.
needed machine: M.C. Pressure Screen, Up-flow Pressure Screen, Reject Separator, Inflow Pressure Screen
Refining: beating and improving the beating degree of pulp.
needed machine: Double Disc Refiner, Claflin Refiner, Conical Refiner
Bleaching: bleaching the waste paper pulp.
needed machine: H.C. Bleaching Tower, Mid Consistency Mixer, M.C. Bleaching Tower
Pulverizing
After-Sales Service Of Machine
All Leizhan paper machine are sturdy and durable using, and have less malfunctions for continuous working, incurring low maintenance cost.
Generally, Leizhan provides an after-sales service for all equipment. During the first using year, equipment can receive a paid-service or free-service depending the practical condition of the equipment.