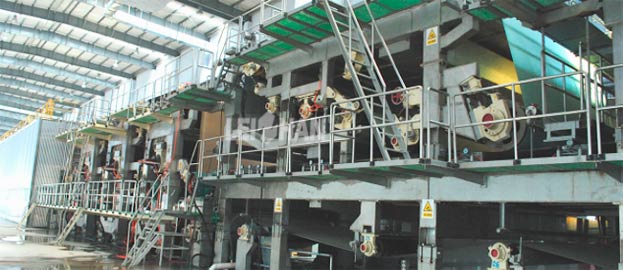 3400/350 two wire multi-cylinder paper making machine for paper plant to produce high strength Corrugated paper, kraft paper use OCC waste paper as raw material.
Technical data of 3400/350 multi-cylinder paper making machine
Main product: high-strength corrugated paper, kraft paper
Raw material: OCC
Basic weight: 90-180g/m2
Width of paper: 3400mm
Width of rolling paper: 3450mm
Working speed: 350m/min
Designed speed: 400m/min
Dynamic balance: 500m/min
Production capacity: 150t/d
Lip width of headbox:  3700mm
Width of wire: 3850mm
Driving mode:  AC motor frequency conversion speed subsection drive
The machine consists of headbox, fourdrinier wire forming, press section, drying section, gas hood section, sizing machine, calender, mechanical drive section, compressed air system, lubrication system, hydraulic pressure system, basic section, reeling machine. Paper machine scheme drawing shows the main arrangement.