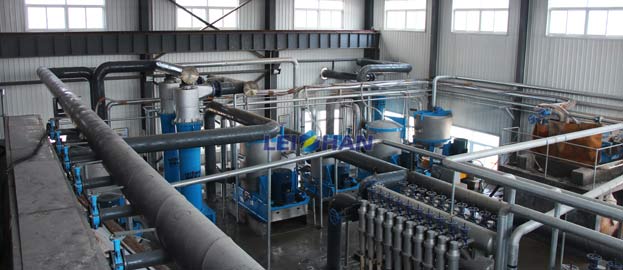 Used office paper, newsprint paper, notebook, etc. can be recycled for producing new culture paper. Leizhan delivers equipment and solutions for deinked paper pulp production which is suitable for culture paper making.
Leizhan's knowledge of deinked pulp production and paper making draws upon 30 years of experience and numerous references worldwide. Following is the solution for 15t/18h Deinked paper pulp production.
15t/18h Deinked Paper Pulp Production Process
Process for 15t/18h Deinked paper pulp production line: Pulping(ZDSG5 High consistency hydrapulper), Cleaning(ZSC3 High density cleaner, KH600 Low density cleaner), Screening(ZDF2 Single fiber separator, ZSK2 Vibrating screen, ZNS0.3 M.C. pressure screen), Thickening and washing(ZNX5 Inclined screw thickener, XJJ1300 Stock washer), Refining(ZDP450 Double disc refiner).