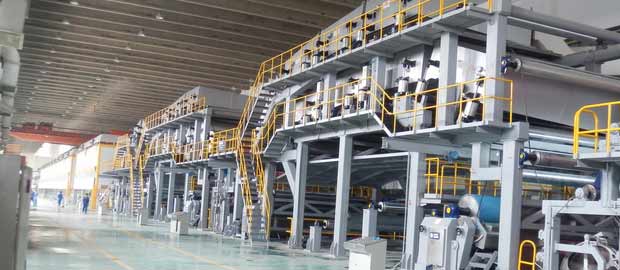 Coated paper is coated with a layer of paint on the base paper, so that the paper has good optical properties and printing performance. We are professional manufacturer of complete set of fourdrinier coating board paper machine. The 3800mm five layer coating board paper machine is composed of headbox, fourdrinier section, press section, drying section, sizing section, calender section and reeling section. Here are more info about 3800mm coating board paper machine.
Structure of 3800mm Coating Board Paper Machine
Headbox: Five sets of open headboxes correspond to top layer wire, liner wire, core layer wire, bottom lining layer wire and bottom layer wire respectively.
Fourdrinier section: Five layer corresponding to the top layer, liner layer,core layer, bottom lining layer, bottom layer, and each with a forming mesh.
Press section: The first press and the second press are large roll diameter presses, each equipped with one upper and lower rubberized metal roller; the third press is a glossy press, with one stone roller and one rubberized metal roller.
Drying section: Φ1500 / Φ1800 dryer cylinder, sectional drive, with guide roll, drying wire. Equipped with closed hood.
Reeling section: Pneumatic horizontal type, pressurized type is air cylinder pressure.
Coated paper can be used as publishing paper for printing magazines, books, etc. and printing paper for trademarks, packaging, catalogs, etc. Want to start coating board paper making, please feel free to consult me. Email address: leizhanchina@gmail.com.