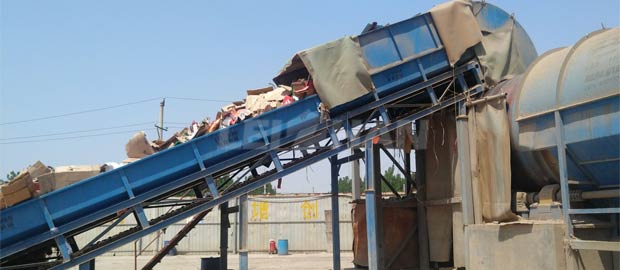 Paper pulp production line chain conveyor mainly used to convey waste paper or pulp board to hydrapulper and widely used in all kinds of waste paper recycling lines. Chain conveyor reduced labor and improved conveying efficiency. The chain conveyor adopts chain to drive through plate to transport raw materials into the drum pulper for pulping. It is the best choice of waste paper and pulp board conveying equipment. Here are features about chain conveyor
Main Features About Drag Slat Chain Conveyor
1. Trough plate punch forming which high strength and excellent in crushing effect.
2. Chain board adopts closed design to prevent material leaking.
3. Two rows of chain adopt long axis to prevent chain running deviation.
4. Chain wheel adopts cast steel to improve wear-resistant.
Paper pulp production line conveying equipment chain conveyor has the advantages of large capacity, low motor power and high efficiency. More info about waste paper recycling industry chain conveyor, please feel free to contact us. Email address: leizhanchina@gmail.com.