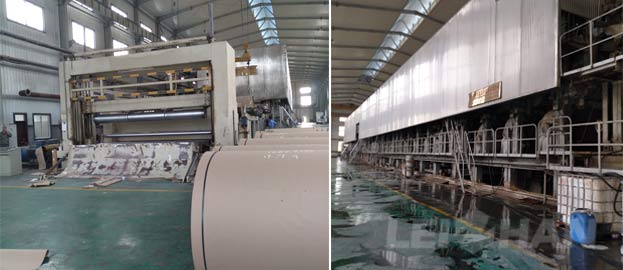 Corrugated paper machine is consist of double wire forming part, press part, drying part, sizing part, paper reeling machine, foundation part and paper machine auxiliary system.
The Structure Of 300t Fluting/Corrugated Paper Machine
Forming part: Air-cushion type headbox, double wire forming(top wire 7.5m、bottom wire 21m)
Press Section: Two double felt large roll diameter press(Φ1500/Φ1500)
Dryer Section: 24 pieces of Φ1800mm dryer cylinders. Arrangement: 1+(3+3)+8+10+sizing machine+12+horizontal roll of paper machine
Traditional drive adopts section drive, AC frequency conversion speed control
The paper machine from the reeling machine to see wire section, drive on the right, is the right hand paper machine. On the contrary is the left hand machine
We provide the complete line of Fluting/Corrugated Paper Making Machine, include the waste paper conveying, pulping, pulp screening, pulp cleaning, pulp refining, pulp tailing dealing, pulp approaching, paper making, paper roll packaging, etc, if you have any needs, consult us: leizhanchina@gmail.com.