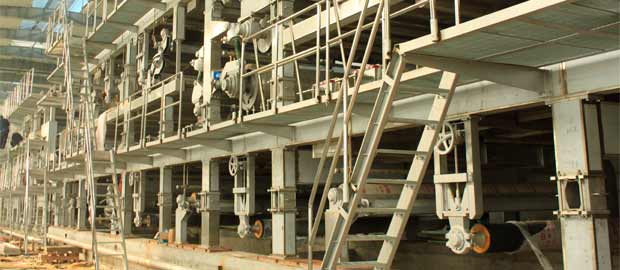 Large scale 5200mm double wire multi-cylinder paper machine mainly used to make 80-270g/㎡ fluting paper. The daily capacity is 400t/d. The customer use waste paper as raw material to make fluting paper, unit stock preparation line machine and fluting paper making line machine provided by Leizhan company.
Main Technical Data of 5200mm Fluting Paper Machine
Main product: high strength fluting paper, T-paper
Basis weight: 80-270g/㎡
Trimmed width: 5200mm
Capacity: 400t/d
Working speed: 500m/min
Design speed: 550m/min
Dynamic balance speed: 650m/min
wire width: 5600mm
Headbox lip width: 5550mm
Gauge: 6400mm (tentative)
Transmission mode: AC motor variable frequency speed regulation sub-transmission
Layout form: single layer layout
If you have an idea to make fluting paper or upgrade old paper production line machine, please feel free to contact us. Email address: leizhanchina@gmail.com.