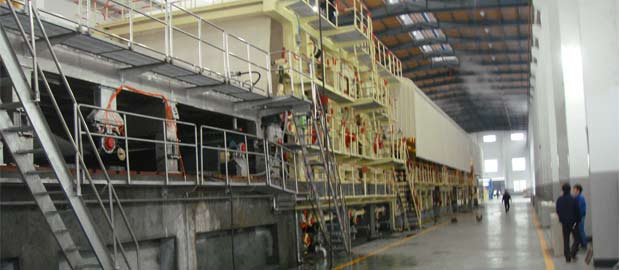 4500mm corrugated paper machine is composed of wire part, press part, drying part, reeling part. The 4500mm paper machine mainly used to make 80-160g/㎡ corrugated paper. Overview of 4500mm corrugated paper machine as below.
Overview of 4500mm Corrugated Paper Machine
1. Forming section: air-cushion headbox sizing, double-stacked mesh forming (top mesh 7.5 meters, bottom mesh 21 meters);
2. Press section: two double-felt large-diameter presses (Φ1500/Φ1500)
3. Drying section: Φ1500mm threading cylinder, 3 UNO cylinders, 33 drying cylinders. Arrangement form 1+(3+3)+8+10+Sizing+12+Horizontal reel
4. This machine looks at the net part from the reel, the transmission is on the right side, it is the right machine, otherwise it is the left machine.
4500/400 multi layer corrugated paper machine, please feel free to contact us for more details. Email address: leizhanchina@gmail.com.