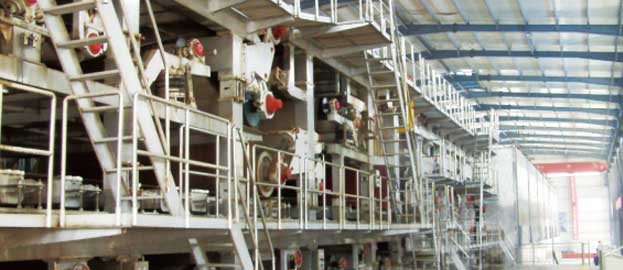 Duplex board paper is mainly used to packaging and printing, it is divided into multiple level. The common classification is A, B, C, D, E, F, F is the worst one. Every classification is divided into multiple gsm: 200, 230, 250, 270, 300, 350, 400, 450 etc. Raw material is mainly use LOCC, AOCC, waste newspaper.
30T/D Duplex Board Paper Pulping Equipment List
1400 Chain Conveyor→10m³ Vertical Hydrapulper→ZSC3 High Density Cleaner→M.C. Pressure Screen→ZDFD5 Single Effect Fiber Separator→2m² Vibrating Screen→Low Density Cleaning Machine→Double Disc Refiner→Cylinder Thickener→Low Density Cleaner→Inflow Pressure Screen…
The equipment is different from the paper makers requirement to paper.
Duplex Board paper bottom color is grey, is formed by waste newspaper through deinking line, we supply the complete set of duplex board making machine to produce duplex board paper. The engineer will design corresponding suitable project for you according to your different need, welcome to consult us for more details: leizhanchina@gmail.com.