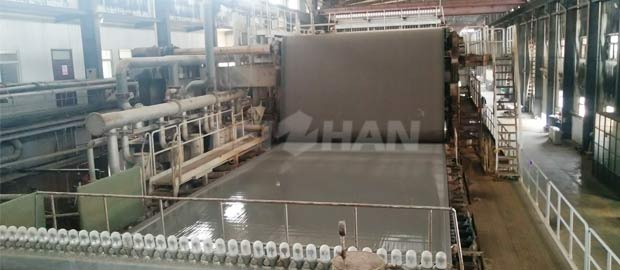 When it comes to kraft boxboard paper, everyone must know that it is a high-grade cardboard for transportation packaging, which has strong water resistance and moisture resistance. Generally speaking, the paper mill owner use wood pulp as top layer, and OCC as core layer and bottom layer. Leizhan provides the process of producing new paper from all raw materials and complete stock preparation line equipment. Main data of 2500 kraft liner board paper making machine as below.
Main Data Of 2500mm Kraft Liner Paper Machine
Raw material: wood pulp, OCC
Trimmed width: 2500mm
Basis weight: 80-220g/m²
Design speed: 350m/min
Working speed: 300m/min
Dynamic balancing speed: 500m/min
Crawling speed: 25m/min
Headbox lip: 2800mm
Gauge: 3500mm
Leizhan offer complete waste paper treatment equipment, include pulper machine, pulp screening machine and pulp cleaning machine, etc. Let me know you more requirements and make a reasonable proposal for you. Email address: leizhanchina@gmail.com.