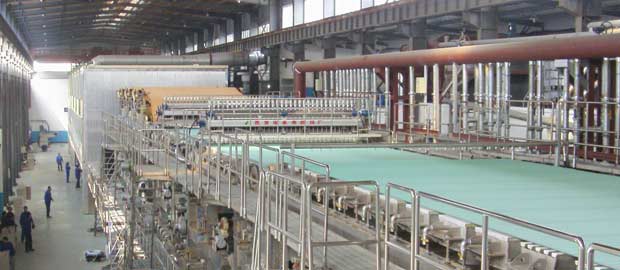 4800mm triple layer multi-cylinder paper machine mainly used to make 90-230g/㎡ carton paper. The final product is paper roll. The carton paper machine is composed of triple wire part, press part, drying part, sizing part, reeling part. Recycling waste paper to make carton paper, like kraft paper, t-paper or corrugated paper. Leizhan offer complete paper recycling pulping line machine.
Main Technical Data of 4800mm Triple Layer Carton Paper Machine
Main product: Carton paper
Raw material: waste paper/OCC/Kraft cement bag paper
Basis weight: 90-230g/㎡
Trimmed width: 4800mm
Production capacity: 350t/d
Working speed: 450m/min
Design speed: 500m/min
Wire width: 5350mm
Gauge: 6200mm
Unit carton paper production machine supplier from China. Contact us for more details. Email address: leizhanchina@gmail.com.