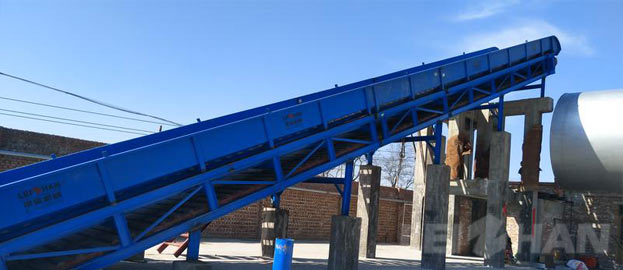 Drag Chain Conveyor in paper mill is mainly used to conveying waste paper, pulp board and virgin wood to following Hydrapulper. Leizhan manufacture reasonable structure waste paper chain conveyor, adopt chain drive slot plate motion to conveying the materials, with the advantages of big conveying capacity, low power consumption, small wear, reliable working etc, after used by many paper mills of the whole country, get good effect, is the most ideal waste paper and pulp board conveying equipment at present.
Features Of Drag Chain Conveyor
Raw material: Waste papers, pulp board, wood, etc
Classification: Inclined type and horizontal type
Chain plate width: 1200-2600mm
Structures Of Drag Chain Conveyor
1. Head drive device:
Composed of electric motor, reducer, transmission device and drive sprocket device;
2. Tail wheel drive:
Composed of tail wheel shaft, two tail wheel and bearing;
3. Tension device:
Tension device adopt spiral stretch method, used to adjust the tightness of leading chain;
4. Chain part:
Composed of leading chain and trough plate. Leading chain adopt impact resistance, running stable and reliable plate chain, the inner chain plate is provided with a roller which rolls on the track to reduce friction resistance and wear.
We make high quality and cheap price, waste paper drag Chain Conveyor, more details welcome to consult us: leizhanchina@gmail.com