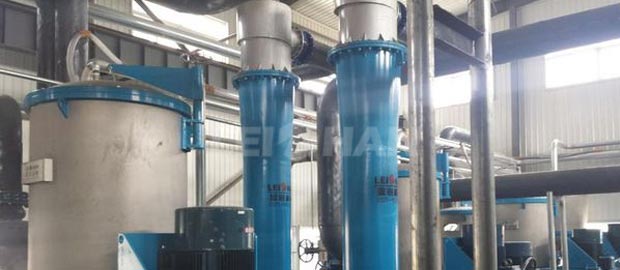 Paper recycling line machine high density cleaner is mainly used to remove all kinds of heavy impurities in paper pulp. The high density cleaner separates the slurry from heavy impurities through the action of centrifugal force and equipped with PLC control cabinet, sufficiently discharging impurities.
Main Specifications of ZSC5 High Density Cleaner
Type: ZSC5
Nominal size: 5000
Throughput: 4500-5800l/min
Concentration of input pulp: 2-5%
Pressure of input pulp: 0.15-0.35Mpa
Pressure of output pulp: 0.1-0.25Mpa
Pressure of backwash water: pressure of input pulp+0.02Mpa
Discharge mode: Manual/Auto/Intermittence/Continuous
As professional manufacturer of pulping equipment, we can offer high efficiency, advance technology and professional service. More info about high density cleaner, please feel free to contact us. Email address: leizhanchina@gmail.com.