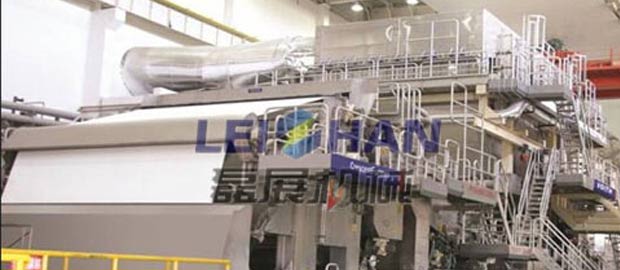 The new type 2850mm crescent former toilet paper machine is composed of double layer bleaching headbox, crescent former, vacuum roller, yankee dryer cylinder and high speed hot air hood. The toilet paper machine use softwood and bamboo pulp as raw materials to produce toilet paper. Leizhan offer unit toilet paper making project equipment. More technical data about 2850mm toilet paper machine as below.
Main Data of 2850mm Crescent Former Toilet Paper Machine
Raw material: Softwood, hardwood bleached kraft pulp, bamboo pulp
Output paper: Toilet paper rolls, facial tissues and household paper base paper
Trimmed width: 2850mm
Basis weight: 12-25g/㎡
Design speed: 1700m/min
Working speed: 1600m/min
Roll paper width: 2850mm
Production capacity: 70t/d
Wrinkle rate: 18%~30%
Unit toilet paper making project machine can be provided by our company. High quality, high efficiency and cheap price. Want to know more about 2850mm toilet paper machine, please feel free to contact us. Email address: leizhanchina@gmail.com.